Father's Day is the most beautiful day for dads as well as the sons and daughters. So, planning out the celebration in the best way is a given! Whether to plan a balloon surprise, wall decoration or any other is one question that may come to your mind. 
But, no worries, here you can easily know how to have a father's day decoration at home and what different decoration you can opt-
How to have the Decoration at Home?
Step 1-
Choose the balloon Color Theme 
For a perfect father's day celebration, it's important that you choose the right colors for balloons. The right combination of balloon colors affect the overall decorations. So, make sure you choose the colors that you want or your father would love! 
FrillX offers you amazing kits so you can also choose to go for them. With decoration surprise, you can go for some amazing trending Father's day gifts too! Check out this blog for them- 30 Best Father's Day Gifts 2022 that Are a Perfect Pick for the First Time Dads
Step 2-
Make an arch of the Balloons Chosen 
A Balloon arch makes the decoration all the more attractive. You can make the balloon arch easily by using a Balloon Arch Strip and Glue Dots Tape. You can also refer to the video below, in case you don't know how to make it by yourself. Your Father's Day decor will look gorgeous with a balloon arch on the wall. 
Step 3-
Use Happy Father's Day Foil Balloons
Make your celebrations sweet by adding "Happy Father's Day" or "Best Dad" letter foil balloons. Let your papa feel special by wishing him a happy father's day by adding this to your wall decoration! 
Step 4-
Spread Free-Floating Balloons on the Floor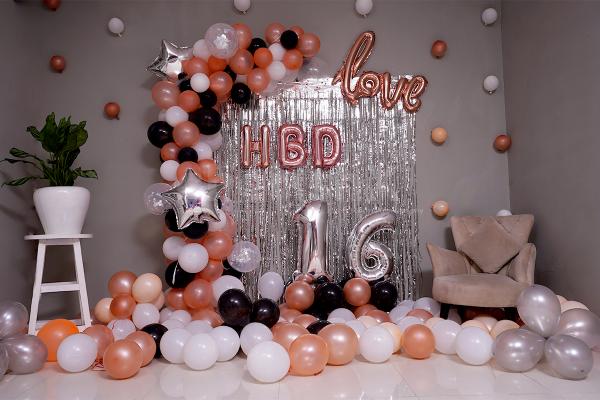 If you want to make your decor extra pretty. Then, add on some free- floating balloons to make the room gorgeous! 
Step 5-
Go For Balloon Bunches 
If you want to add something extra then balloon bunches are a great idea! Balloon bunches will not only make your overall decoration look prettier but will also make it fulfilling. Everybody loves balloons so using it in this way will surely make everything look perfect!
So, this way you can do a perfect decoration by yourself. Follow the steps and get your planned decoration as you like. 
Best DIY Father's Day Decorations 
No need to get confused! You can find some of the best Father's Day Decorations that are gorgeous and also easy-to-do-
Get this DIY Balloon Decoration Kit for Father's Day celebration and make it special. You can celebrate the day beautifully with this Gorgeous Father's Day Letter Balloon Decoration Kit. You can do it by yourself easily. With Best Dad Ever balloons, your father will love it. 
This Father's Day Balloon Decoration Kit has 32 pcs of party supply items. You can decorate a room, or hall to surprise your dad. It may seem a bit of work but the kit items are easy to use. You can have wonderful decorations.
Make your dad feel special by getting this classy Diy Decor kit that says "Dad No.1". This decor has yellow and black balloons which you can use to make an arch. So, get this kit at your home and have a perfect celebration. 
You can check out more at FrillX.